For over 21 years Phillip has served his country and his community. Phillip served 8 years in the military (4 active duty in the US Marines and 4 in the US Army Reserves, with two tours of duty overseas) and over 16 years in Law Enforcement, 7 with Hillsborough County Sheriff's Office (Tampa) and is currently a member of a local law enforcement agency where he has been for over 9 years.
Through his over two decades in both military and law enforcement service Phillip has consistently has gone above and beyond earning many awards and commendations to include receiving a congressional law enforcement award in 2017 for "Dedication and Professionalism"
"Phillip Mockler received the Dedication and Professionalism Award for his decorated law enforcement and military career. A United States Marine who served twice overseas, Mockler joined the us in 2011. Currently assigned to Venice Middle School, Mockler is a mentor to many and volunteers his time after work to coach at-risk youth. He is also heavily involved in the Venice Young Marines program and volunteered to accompany the group on a trip to Hawaii for the 75th anniversary of the attack on Pearl Harbor. Mockler is also commended for his dedication to both the Junior Law Academy and Sheriff's Activities League of Sarasota County; two programs that are geared toward youth development and relationship building with law enforcement. In his spare time, Mockler also serves as Vice President of 'My Warriors Place', a not-for-profit organization that serves the needs of Veterans, military service members, first responders, as well as gold, blue, and silver star families. As a military Veteran and law enforcement professional, Mockler is honored for his commitment to serve his country and his community."
In 2020 Phillip was recognized by Sarasota Magazine and was a recipient of the 2020 Unity Award for his work in the community.
Phillip continues to live in south Sarasota County with his wife Cindy where they raise their two boys ages 7 and 9 and in his off time, they enjoy boating and exploring state and local parks and camping.
George and Barbara Martinez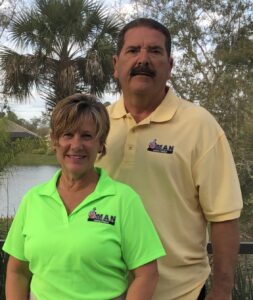 George and Barbara know the wonders of owning a vacation home.  They also know the burdens of wondering from afar how well your home has weathered a recent storm.  Worse yet, what it is like to return to your piece of paradise only to find damage due to broken pipes or air conditioning units.
Combining their personal experiences with their dedication to serving and protecting the public is where the idea of GMan Home Watch got its start.  The name "GMan Home Watch" is a play on the slang term for FBI Special Agents dating back to the 1930s.
George and Barbara first established GMan Home Watch in Venice where it quickly became a prominent go-to business.  They received numerous accolades and were voted the "2020 Neighborhood Favorites – BEST PROFESSIONAL SERVICE" by subscribers to nextdoor.com.  That business was sold and will continue to operate under the name GMan Home Watch of Sarasota County.  George and Barbara now bring their expertise, professionalism, and dependability to Punta Gorda.
As the owners of GMan Home Watch they want their clients to see them as their most trusted neighbor and to feel comfortable knowing their home is well-cared for by a responsible and reliable team while they are away.
Contact GMan Home Watch!
We offer discreet, dependable, and documented services tailored to fit your needs; all at affordable rates.
GMan Home Watch is a full-service home watch provider serving
landlords, seasonal and vacationing homeowners in Venice, Englewood, Nokomis and West Villages.
HOURS OF OPERATIONS
Our regular business hours are Monday-Friday, 8am-5pm EST.  We are not a 24/7 company.  However, given the nature of our business, we do our best to assist clients after hours and weekends for emergencies that may arise.